Product list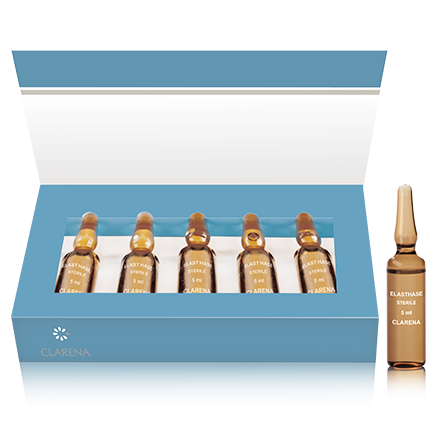 Elasthase
Cocktail with elastine for invasive mesotherapy
Cocktail intended for needle mesotherapy of the face, neck, hands and body. It contains elastin, which reduces the size and number of wrinkles, improves skin firmness and density as well as increases collagen production and prevents stretch marks. Silica and DMAE slow down aging of the skin and support the elimination of wrinkles. Extracts from the centella asiatica and mimosa accelerate regeneration, stimulate the synthesis of collagen as well as improve microcirculation and counteract free radicals.
How to use: Cocktail apply using needle mesotherapy with nappage methode.
Product ready to use, requires no additional mixing and preparation.
Package: 5 x 5 ml
Code: 17382
The product is intended only for professional use. Not for sale to retail consumers.
Active substances
Elastin - affects the maintenance of balance between water- fats to ensure optimal hydration of the skin. Smoothes wrinkles, increases vitality and elasticity of the skin.
DMAE - dimethylaminoethanol, stimulates fibroblasts to produce collagen and elastin, firms the skin. Improves the appearance of the skin and protects against free radicals.
Centella asiatica extract - soothes irritation and inflammation of the skin. Stimulates the synthesis of proteins and accelerates the healing processes. It improves blood circulation, reduces swelling and strengthens the walls of blood vessels.
Silica – regenerates  connective tissue and prevents skin aging, it's part of the collagen and elastin.
Mimosa extract - regenerates, moisturizes and strengthens capillary walls. Fights free radicals and slows down the aging process of the skin, moisturizes, strengthens capillary walls.


Product list
---