Product list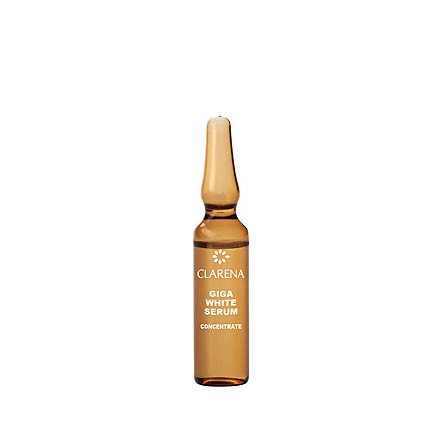 Giga White Serum
Professional serum with innovative formula based upon the patented depigmenting Chromabright™ ingredient. Recommended for bleaching treatments on all skin types with blemishes of various sources. Absorption promoters guarantee ideal absorption of active ingredients deep into the skin. This ensures effective keratolytic action, regulation of melanogenesis processes, lightening of existing blemishes and high level of photo protection. The preparation has a refreshing, hypoallergenic fragrance and gel consistency, facilitating precise and safe application.
The serum comprises the most important element of salon bleaching treatment.
Active ingredients: Chromabright™ MFN, acid complex, resorcinol
Directions for use: After appropriate skin protection apply serum to skin with a brush, with particular attention to blemished areas. Leave to dry (approximately 10 minutes). Rinse thoroughly with water and apply tonic. Apply Nano Giga White Mask or Algaplast Giga Whitening.
NOTE:
● Do not apply to damaged skin.
● Avoid contact with eyes and mucous membranes.
● Application of the serum is accompanied by a prickling and slight burning sensation on the skin which passes as the preparation dries.
Package: 10 x 3 ml
Code: 1854
Professional use only. Not to be sold at retail.
Product list
---