Charity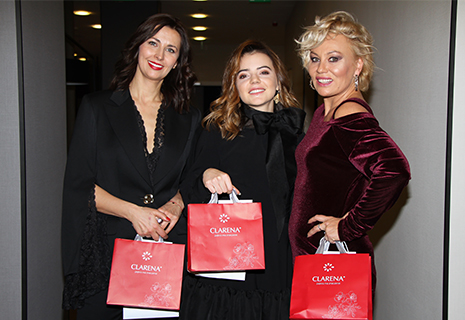 Clarena at a charity ball
On Saturday the 1st of February the Warsaw hotel Marriott Courtyard Okęcie hosted the XIII edition of the charity ball organized by the "Kochaj życie" Foundation. Clarena was one of the chief partners of the event which constituted the most irrefutable proof of the fact that thirteen is not an unlucky number at all!
The show of the designer Dorota Goldpoint was held at a charity ball. The famous actresses, such as Olga Borys, Joanna Kurowska, Anna Korcz and the main characters of the film series "The grils from Lviv" added splendour to the event on the catwalk. On no account can a decent charity ball take place without an auction - so it was this time – the main raffle prize was the painting bestowed by the artist Martyna Kliszewska.
The whole proceeds from this year Ball will be transferred to the account of  "Kochaj życie" Foundation and will be used to cover the cost of lifesaving surgical treatments of the child patients. The child patients are  treated by the doctors from the Foundation who have been trained by the Prof. Paley from Florida.