Firma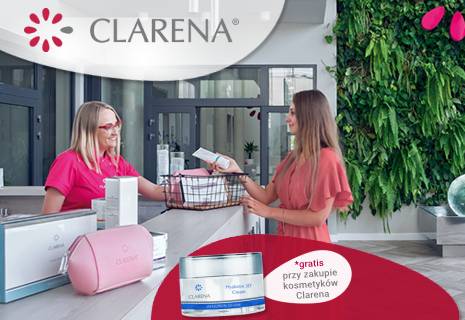 Clarena Sales Showroom opening in Krakow
On March 10 in Krakow at 5 Górna Street, the official opening of the new - third in Poland - Clarena Sales Showroom and Training Centre will take place. The first 38 people who purchase Clarena cosmetics that day will receive limited edition Hyaluron 3D cream for free.
The Clarena Sales Showroom and Training Centre will be open from Monday to Friday, from 8:00 to 16:00. In addition to the option to purchase Clarena products, customers can get cosmetology advice, consult specialists or test cosmetics and devices from the Clarena range. In the Sales Showroom we offer products for retail customers and professionals.
In Krakow, as in the company's headquarters in Wroclaw and in the Sales Showroom in Warsaw, Clarena trainings available at www.clarena.pro and free #clarenabeautyday seminars will be organized. Participants are offered accommodation in Clarena Apartments. Price list available when signing up for training.
Clarena Sales Showroom and Training Centre
Ul. Górna 5
Krakow
Tel: 782-720-124