Partnerships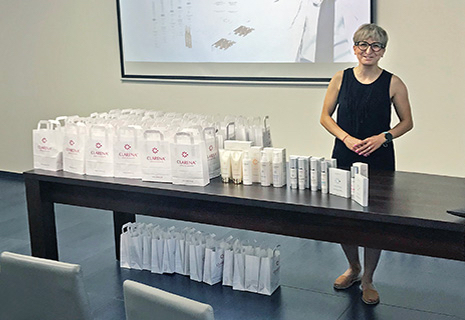 Dermocosmetics for problematic skin
Surely you know the Clarena Medica brand by now, do you know what can this brand offer you and where it can be found? Clarena Medica is a series of cosmetic products especially developed to solve disturbing skin problems. Due to the multi-stage laboratory examinations, dermatological tests and through the use of innovative active ingredients, the cosmetics of Clarena Medica are characterized by high efficiency.
PSORIASIS product line addresses psoriasis and is designed for the care of very sensitive skin as well as the skin after treatment with corticosteroids (hormonal therapy).
PURIFICATIO product series is developed for thorough cleansing and refreshing of the problematic skin, without causing irritations. Purificatio will let you forget the skin pores clogged up by impurities, grease, sweat or make-up residue.
ALERGICA SENSIBILIS product series is recommended for allergic, atopic and sensitive skin. The product from Alergica Sensibilis strengthen, regenerate, give relief and supply the challenged skin with moisture.
LENTIGO SENSILIS is a product designed for mature skin showing the signs of photoaging. It minimizes discoloration and liver spots, has a brightening effect, improves firmness and skin tone.
ROSACEA line of products addresses the needs of couperose skin with tendency towards erythema and rosacea. What are the results? Soothing of skin inflammations, strengthening of vascular walls and protection against the unfavourable impacts of the environment.
ACNE VULGARIS product series includes preparations with antibacterial-moisturising properties targeting for solving the problems of oily, combination and acne skin.
Dermocosmetics of Clarena Medica are available in pharmacies, such as: Gemini, Alleleki, Melissa, Cefarm24 and also in the drug store chain - Apteki Słoneczne, among others.