New products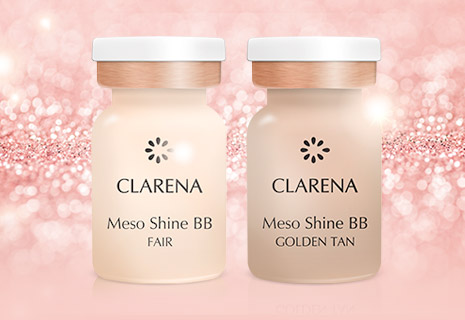 Meso Shine BB – the semipermanent pigmentation of the skin
The permanent make-up of eyebrows and lips belongs to the most popular cosmetic treatments among women who appreciate the perfect look. However, it does not solve the issue of scars, discolorations and other complexion imperfections. The only effective solution so far to hide such defects was the properly covering fluid. Currently, thanks to the innovative Meso Shine BB Clarena therapy, the dreams of an impeccable smooth and shiny skin could come true.
What does Meso Shine BB mean?
Meso Shine BB is a revolutionary treatment that enables you to stop using foundation, concealer, blusher and highlighter every day. Inspired by Korean trends, the formulations of Meso Shine BB concentrates were conceived with a view to the European phototype of complexion. The concentrates are available in two universal colour versions to match the skin tone ideally. They guarantee comprehensive care and immediate skin metamorphosis, which consists in covering of imperfections and spectacular brightening effect.
The course of treatment
We start the treatment procedure with make-up removal using soothing milk – Sensitive Milk that is particularly recommended for use before dermocosmetic therapies. On the next step, we perform the enzymatic skin exfoliation using the papain based Luxury Enzymatic Peeling – the extract from the willow bark and phytic acid derivative. The essential point of this treatment is microneedling mesotherapy and the application of the Meso Shine BB drug mixture. The micro-channels that are created in the skin allow the drug mixture to diffuse into the inner layers of the epidermis, thus causing its pigmentation. The concentrate contains, among other things, witch hazel hydrolate, hyaluronic acid, peptide complex, adenosine, vegetable extracts and natural pigments. In the further course of the procedure, we apply the Natural Silk Mask – a sheet-mask with natural silk proteins, rich in hyaluronic acid, collagen and algae extract. Due to the contents of these ingredients, the mask ensures an  effect of smoothing, improvement of elasticity and restores an immediate comfort and supple feel to irritated skin. The procedure ends with the application of Sensi Calming cream with calming and protecting effects on the skin.
Advantages of the treatment
As a result of the treatment, your skin becomes smooth and supple, the skin tone more even, your complexion is brightened and skin moisture improved. In order to maintain the results for the next 6 moths, we recommend a series of 3-5 treatments every two weeks. The special shallow microneedling technique makes the procedure fully safe, comfortable and, furthermore, the treatment does not require recovery. The smooth way of drug mixture (cocktail) application eliminates the risk of uneven pigmentation and  undesirable colorants modification. This is why the pigment declines gradually and naturally. You will have the opportunity to see the practical treatment performance at the spring edition of the All-Poland Cosmetics Conference by Clarena. You are welcome to attend!