Product list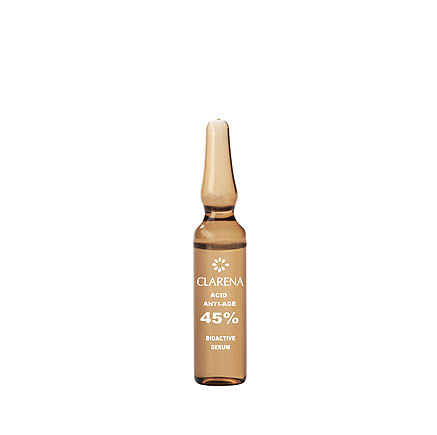 Acid Anti-Age 45%
Bioactive Serum 
45% serum with shikimic and lactic acid and retinol, with pH 2.1. Recommended for mature, dry skin with a tendency to discoloration. Shikimic acid strongly binds the water in the epidermis and strengthens the protective barrier thus preventing  TEWL. This  enables to achieve a deep, lasting moisturising effect. Along with retinol, it stimulates the process of cell regeneration, accelerates the process of keratinisation and facilitates epidermis thickening. Additionally, lactic acid stimulates the production of collagen and elastin, lightens the discoloration and makes minor wrinkles more shallow. As a result, the skin is smooth, firm, very well moisturised and visibly younger. 
Application: adapt the skin before the procedure with Pre Peel Cleanser.  Apply the serum with a brush, leave for 3 minutes; afterwards rub with neutralising lotion and then wash with a lot of water. Photoprotection recommended!
Attention! Shake before using!
Package: 10 x 3 ml
Code: 1253
Professional use only. Not to be sold at retail.
Product list
---