Product list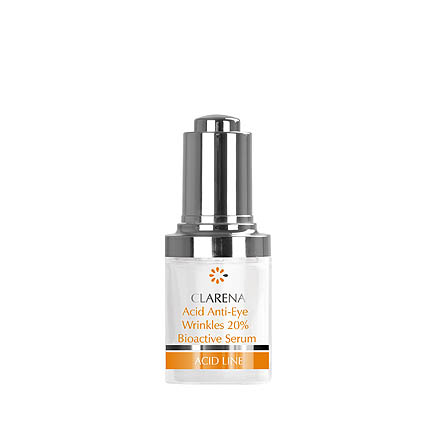 Acid Anti-Eye Wrinkles 20%
Bioactive Serum 
Innovative, unique 20% rejuvenating serum with phytic acid, intended for the skin around the eyes!!! Phytic acid is a mild exfoliator, which peels the keratinised epidermis very delicately and stimulates the process of its regeneration. Thanks to its anti-oxidant properties, it makes minor wrinkles more shallow, deeply moisturises the skin and shrinks the expanded blood vessels. As a result, the skin after the application of the serum is visibly regenerated, lightened, moisturised and rejuvenated. The serum is entirely safe! It has a special gel-like texture, which minimises the risk of getting inside the eye.    
Application: adapt the skin before the procedure with Pre Peel Cleanser.  Apply the serum with a brush, leave for 3 minutes; afterwards rub with neutralising lotion and then wash with a lot of water. Photoprotection recommended!
Attention! Shake before using!
Package: 10 x 3 ml
Code: 1254
Professional use only. Not to be sold at retail.
Product list
---