Product list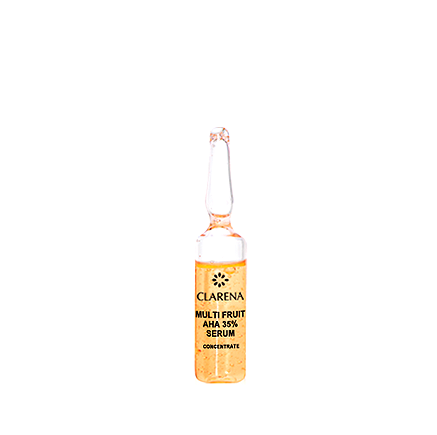 Multi Fruit AHA 35% Serum
Professional serum with 35% concentration of fruit acids, with gel formula and fresh fragrance. Designed for cosmetic renewal treatment of mixed and oily skin and body. The preparation's formula is based on the synergetic action of alpha-hydroxyacids and their optimal pH 2,5. The serum exfoliates rough cuticle, flattens scars and stretch marks. By stimulating collagen and elastin synthesis it firms the skin, prevents the formation of wrinkles and improves dry skin hydration. 
Directions for use:  apply on previously prepared and protected skin. Leave for 2 – 5 minutes, apply Neutralizer Gel + and rinse off.  Complete the treatment with Sensi Calming Cream massage. 
Attention: The serum can be used after previous application and neutralization of Multi Fruit AHA 25% Serum.
Capacity: 10 x 3 ml
Code: 1262
Professional use only. Not to be sold at retail.
Product list
---