Product list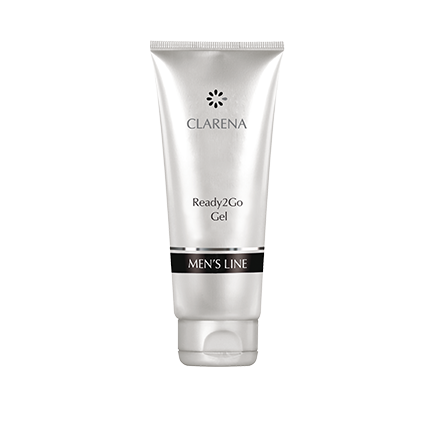 Ready2Go Gel
Shower gel and shampoo 3 in 1 for men
Shower gel for men designed to wash the body, face and hair. Unique 3 in 1 formula. Perfectly cleanses and cares the male skin and hair. Thanks to its carefully selected active ingredients, including ginseng and marigold extract, rejuvenates and regenerates. Protects from irritations and inflammations. Bilberry extract speeds up healing and has an antiseptic effect. Additionally firms, smoothes and brigtens the skin. Panthenol and milk proteins moisturize the skin and hair. Royal jelly nourish and protects from adverse influence of external factors. The shower gel leaves skin perfumed with the pleasant, male scent.
Capacity: 200 ml
Code: 30001
Active substances
Ginseng - rich in Vitamins and microelements, contains natural antioxidants, impoves microcirculation, regenerates. Applied to the skin of the head strenghtens hair and prevents its loss. Has rejuvenating, nourishing effect and improves oxygenation of the skin cells.
Marigold extract - has antibacterial and anti-inflammatory properties, increases skin regeneration time, soothes irritations, moisturizes, softens the skin.
Royal jelly - rich in Vitamins and minerals, consists natural acetylocholine, multiple amino acids and carbohydrates. It nourishes, regenerates, increases skin metabolism, rejuvenates and purifies. It protects from adverse influence of external factors and prevents the skin and hair from water loss.
Bilberry extract - strenghtens capillaries, has anti-inflammatory, antioxidant and astringnt effect. Improves skin appearance, restores healthy colour and smoothens.
Panthenol - effectively moisturize, leave it velvet soft and elastic. Soothes irritations and inflammations, accelerates regeneration of epidermal cells. Improves function of lipid barier, which enhance the immune system against external factors.
Milk proteins - intensively moisturize, leave the skin elastic and in good condition.
Product list
---