Product list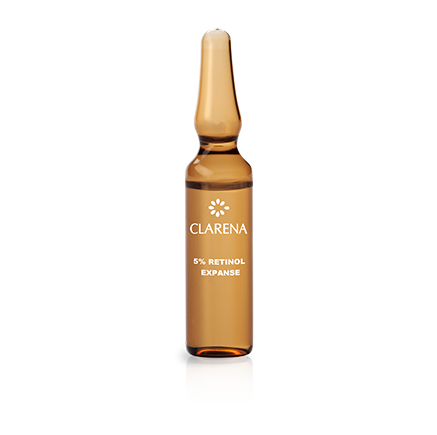 5% Retinol Expanse
Product with retinol for mature skin with hyper pigmentations
Preparation in ampoules designed to use in the mask - form at the end of the rejuvenating treatment. It should be used instead of cream. It contains 5% retinol which regulates formation and division of epidermal cells, stimulates collagen synthesis protecting it against degradation. As a result thin epidermis is being thicker, wrinkles more smoothed and skin recovers its firmness. Thanks to hyaluronic acid synthesis and increase of the protective properties of the skin, hydration of the skin significantly improves. The use of masks can also lighten spots and discolouration and improve skin tone.
It is also recommended for acne and skin with blackheads, because it regulates the secretion of sebum as well as reduces greasiness and the amount of skin imperfections. Retinol has a gentle ex foliating properties. The mask should be applied at the end of the treatment and left for 6-8 hours, then rinse with water.
Package: 5 x 3 ml
Code: 18390
The product is intended only for professional use. Not for sale to retail consumers.
Active substance
Retinol – the most primal and safe for the skin, form of vitamin A. Plays the key role at cells dividing processes and good condition of epithelium. Makes the skin more thicker and smoother. Decreases visibility of wrinkles, improves firmness and skin hydration. Helps with melanocytes shrinking and decrease the amounts of melanin it brightens spots and discolouration as well as regulates sebum secretion and narrows skin pores.
Product list
---