Product list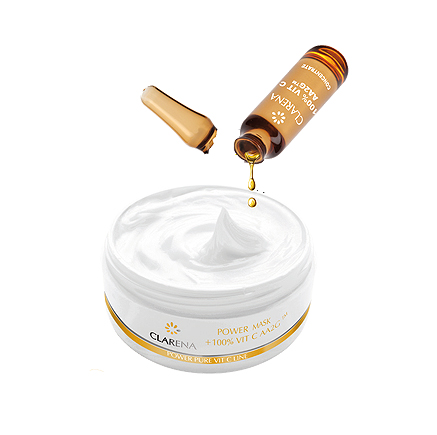 Power Mask +100% Vit C AA2G™
Mask with 100% vitamin C and silk
Brightening face mask consisting of a creamy basis and the left-handed ascorbic acid (L-ascorbic acid), or AA2GTM which is 100% active, contained in an ampoule to preserve its stability. Perfect for the care of a pasty skin lacking vitality and with dilated capillaries. When the new vitamin C contained in the ampoule is mixed with the basis of the mask, it is activated. As a result it penetrates the skin deeply, nourishes and lightens it and inhibits skin aging processes. The skin becomes smooth, shiny and young-looking. When combined with Vitasource™ it stimulates the synthesis of collagen and elastin, improves the skin's density and inhibits skin aging processes. Silk extract binds water in the epidermis, prevents TEWL and forms a specific film on the surface of the skin. The mask is a must after the application of POWER SERUM + 100% VIT C AA2G TM as it intensifies the absorption of glucose that has a nourishing effect and forms a layer on the surface of the skin that prevents the skin from the loss of water from the epidermis. After the treatment the skin is smooth, shiny and nourished.
Application guidelines: Using the spatula, mix the content of the ampoule with the mask. Having applied the serum, put the mask on the face. After 20 minutes wipe it off with a cosmetic tissue and apply Power Cream + 100% Vit C AA2G TM
Attention! The photoprotection is required!
Capacity: 100 ml + 3 ml
Code: 1836 
Professional use only. Not to be sold at retail.

Product list
---