Product list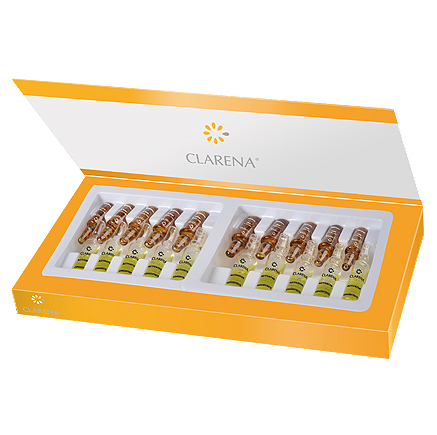 Power Serum +100% Vit C AA2G™
100% active serum with a pure vitamin C AA2GTM
Shock therapy consisting of two preparations contained in two separate ampoules. When mixed, they guarantee a 100% activity during application. Perfect for mature skin lacking oxygen, prone to wrinkles, discolorations and dilated capillaries. The powder contained in the dark ampoule is a crystallised left-handed ascorbic acid - L-ascorbic acid - or AA2GTM.. When added to the activator contained in the bright ampoule, it penetrates the skin deeply providing it with immediate improvement of density and elasticity, constricting the capillaries and making its colour uniform. The combination of vitamin C with the active ingredient Telosense™ inhibits skin ageing processes, reduces wrinkles and provides the skin with long-lasting moisture. 
Application guidelines: break both ampoules, mix their content, and apply the blend on the skin with a brush. Do not apply the serum through iono or sonophoresis. After two minutes apply Power Mask + 100% VIT C AA2G TM on the serum.
The photoprotection is required! 
Attention: The Power Mask 100% Vit C AA2G TM should be applied because it increases the absorption of glucose, which nourishes and creates a film on the skin's surface to prevent the escape of water from the skin. Provides smoothing, lightening and nourishing skin after the treatment.
Package: 20 x 3 ml
Code: 1834 
Professional use only. Not to be sold at retail.

Product list
---