Product list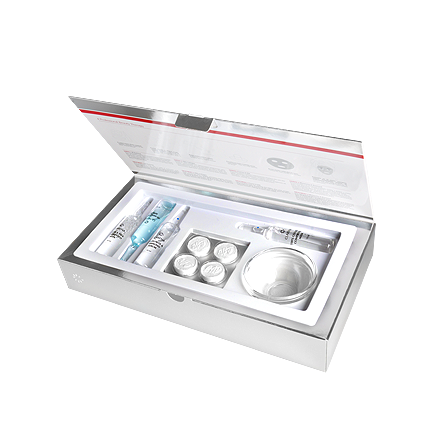 4-step Professional Home Therapy
Four weeks therapy to stimulate and rebuild the skin and combat the signs of aging.
The unique formula of serum contained in glass ampoules and cotton mask compressed to the shape of the tablet. Complex care of skin achieved by gradually release of active ingredients.
Three types of hyaluronic acid deeply moisturize the skin, facilitating the migration of substances contained in the collagen serum [Week 2]. Concenctrated ingredients: Caviar and silk extract [Week 3] support skin regeneration and smoothing. Maintaining con¬centrated anti-aging treatment, as well as giving the skin luminosity provides a unique ingredient – meteorite and diamond dust dust  [Week 4].
WEEK 1. 3D Hyaluron Compressed Mask
Ultra-moisturizing mask with 3 types of hyaluronic acid and PENTAVITIN complex. Instant help for dry, dehydrated skin requiring quick regeneration and hydration. Three-dimensional effect of hydration, filling wrinkles and long lasting firming effect of the skin.
WEEK 2. 100% Collagen Compressed Mask
Nourishing mask with 100% firming collagen. Express nutrition and prevention of skin aging . By the action of an innovative ingredient Acacia Collagen and collagen contained in liposomes, the skin is strengthened, toned and visibly recovers its youthful glow.
WEEK 3. Matrix'14 Caviar Compressed Mask
Concentrated mask activating 14 genes of youth. Intense action for mature, flabby skin and to established wrinkles. Contains the active ingredients activating 14 genes responsible for the synthesis, maturation and cross-linking of collagen and elastin. The addition of caviar and silk extract makes your skin optimally nourished and wrinkles - less visible.
WEEK 4. Meteorite & Diamond Compressed Mask
Anti-aging and brightening mask with meteorite and diamond dust, VITASOURCE™ and Matrixyl 3000, which rejuvenate the skin to a state comparable to the skin younger by ten years. Improves the lifting of skin, deeply moisturizes and tones. A unique component - the meteorite and diamond dust ensures instant skin brightening
How to use:
1. Prepare the set: blister, an ampoule and a bowl
2. Pull out mask from the blister and put it in the bowl
3. Break the ampoule in place of dot using wipe, and put liquid serum in the bowl
4. Wait until mask absorb the serum
5. Unfold the mask and put it on the face
6. Leave the mask on face for 15 minutes and then remove. Leave the residue for absorption.
Paket: 4 x 10 ml
Code: 2090 PH
Product list
---