Product list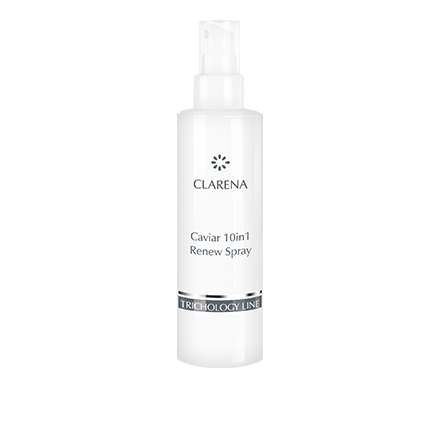 Caviar 10in1 Renew Spray
Multifunctional caviar leave-in spray conditioner
Multifunctional caviar leave-in spray conditioner. The unique composition and formula provide 10 main benefits for the hair: makes them easy to comb and style, regenerates, protects colour, reconstructs hair structure, prevent from damaging action of UV rays, moisturizes, smoothes, strengthens and protects against free radicals. Rice proteins, Aloe Vera, panthenol deeply moisturizes and smoothes. Lavender extract and olive oil work as a strengthener. Blueberries extract is rich in antioxidants, protects against free radicals.
Capacity: 200 ml
Code: 33010
Active substances
Caviar extract – rich in NNKT, vitamins, minerals and aminoacids. Thanks to contained substances, regenerates irritations, speeds up skin cells renoval, strengthens, smoothes, moisturizes and protects from TEWL.
Pearls extract – has rebuilding and protective properties. It also protects it from the damaging action of enviromental factors and UV rays.
Rice proteins – moisturizes, nourishes and protects the hair. Thanks to it hair are less prone to being damaged and are aging slower. Give them a natural shine and reduce static electricity. 
Product list
---