Product list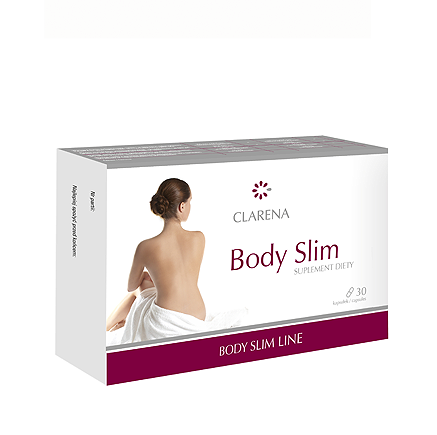 Body Slim
Diet supplement
Diet supplement contains a unique complex of botanical ingredients with proven performance. It helps in body slimming treatments.
Body Slim is an innovative combination of green coffee extracts, kelp and chromium. Helps to control body weight and to maintain the proper level of macroelements. It works by inhibiting the absorption of fats and sugars. Recommended especially for people on a diet, having a big appetite for sweets and overweight people.
Recommended use: take 1-2 capsules a day before the main meal.
Ingredients: extract from green coffee seeds, gelatin, binding substance: dicalcium phosphate, dry extract of Indian nettle root (Coleus forskohlii), powdered bladdery morshyn thallus , dry extract of Cissus quadrangularis, anti-caking agents: magnesium salts of fatty acids, silicon dioxide; dyes: titanium dioxide, iron yellow oxide, blue of the patent V, yellow quinoline; chromium (III) chloride hexahydrate.
Click to see a list of ingredients contained in a dietary supplement.
Package: 30 capsules
Code: 4118
Do not  exceed the stated recommended daily dose. Must be stored at room temperatures (15- 25 Co), in dry and darkened place.
Food supplements should not be used as a substitute for varied and balanced diet. Keep out of children reach. A varied and balanced diet and healthy lifestyles and recommended.
Active ingredients
Cissus quadrangularis - Studies confirms that it inhibits the absorption up to 25% of fat and 20% of sugars in consumed  foods.
Bladderwrack – assists in the process of decreasing body weight by an increase in satiety and reduction of energy requirements
Coleus forskohlii – affects metabolism of fats in the body, helping to control its level. Contributes to weight control.
Chromium - helps to maintain regular levels of blood glucose and  to maintain normal metabolism of macronutrients.



Product list
---