Product list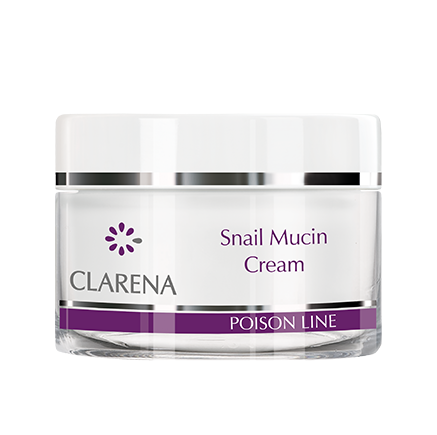 Snail Mucin Cream
Regenerating cream with snail mucus
Light cream with snail mucus designed for the care of irritated and problematic skins. Thanks to the Poly-Helixan PF received from the snail mucus, accelerates healing and promotes the renewal of damaged skin. It supports the synthesis of collagen and makes the skin smooth and elastic. Arnica extract, allantoin, D-panthenol and aloe vera have anti-inflammatory properties, accelerate the absorption of swelling, hematoma and bruising. Vitamin E and squalane further protect and softens the skin. The cream is particularly recommended after intensive cosmetic treatments such as needle mesotherapy.

How to use: Apply a thin layer on the face, neck and décolleté. Gently massage and leave to soak.
Capacity: 50 ml
Code: 22442
Active  substances
Snail mucus – rich in valuable natural substances such as allantoin, proteins, vitamins, mucopolysaccharides, collagen and elastin. Nourishes the skin, accelerates its regeneration, smoothes the skin, reduces scar tissue, relieves irritation and inflammation.
Arnica Extract – has anti-inflammatory properties , helps with wound healing, liquidates  edema, hematomas and bruising.
Panthenol – Effectively moisturizes the skin, leaving it soft and flexible. It soothes irritation and inflammation as well as  accelerates regeneration and renewal of the epidermis. It improves the function of lipid barrier by increasing the skin's resistance to external factors.
Aloe juice – it moisturizes, prevents peeling and smoothes the skin. It strengthens the defense mechanisms, soothes irritation and redness of the skin. Accelerates the regeneration and renewal of the epidermis.
Product list
---