Product list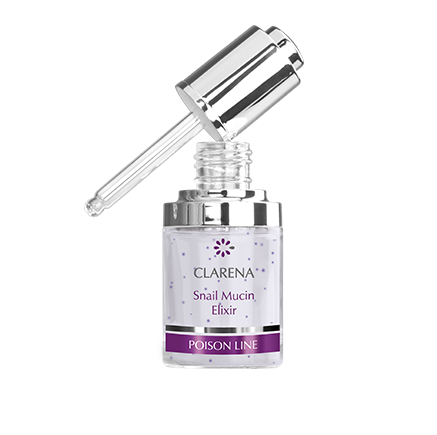 Snail Mucin Elixir
Regenerating snail mucin elixir
The snail mucin extract (Poly-Helixan PF) has regenerating properties and facilitates regeneration of damaged epidermis. Stimulation of the synthesis of collagen and elastin smooths out and rejuvenates the skin. It contains Antileukine 6®, i.e. extract from golden algae which reduces redness and irritation. The elixir is particularly recommended to persons with sensitive skin and for every skin type after intensive cosmetic procedures.
Capacity: 30 ml
Code: 22372
Active substances
Snail mucin extract – is rich in such substances as natural allantoin, proteins, vitamins, mucopolysaccharides, collagen and elastin. It nourishes the skin, speeds up regeneration, smoothes out, reduces scars, soothes irritation and inflammation.
Antileukine 6® – Laminaria ochroleuca golden algae extract strengthens the lipid layer thanks to high content of phosphatidylcholine it blocks activity of inflammation mediators, induced by external and internal agents. It significantly hydrates and improves skin firmness, it intercepts free radicals, has an anti-aging effect, reduces wrinkles, calms and soothes irritated skin and prevents skin damage caused by UV.
Product list
---