Product list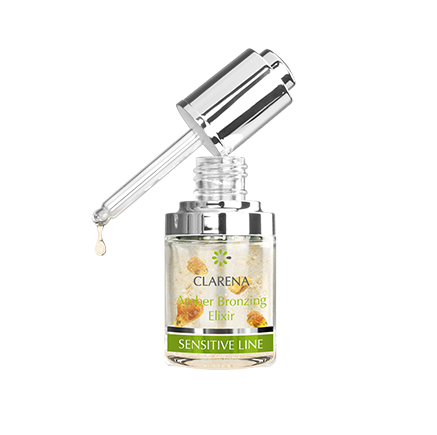 Amber Bronzing Elixir
Amber Bronzing Elixir intended for dehydrated, grey and limp skin. Amber speeds up the skin regeneration and stimulates its natural defenses, neutralizes free radicals and slows the ageing process. Erythrulose guarantees delicate bronzing and a natural tanning effect. Hydroveg® VV moisturize and smoothes the skin. Amber elixir ensures a radiant looking skin for the whole year.
Capacity: 30 ml
Code: 22231
Active substances
Amber - has energizing and antibacterial properties, fight free radicals. Has beneficial effects on the skin's natural moisture balance and firmness. Regenerates irritations and rejuvenates.
Erythrulose - sugar compound, which makes the skin darker, the effect is natural, the tan is smooth and evenly. Does not dry up the epidermis. Suitable even for the most sensitive skin.
Hydroveg® VV - moisturizes, protects, imitate the effects of NMF, reduces TEWL, restores the hydrolipid balance of the skin.
Product list
---